In 2018 alone, the company saved:
4,570 working hours
571 man-hours
~ UAH 100,000 of expenses
What was at the beginning of the transition to ODE by Nova Poshta group of companies?
In 2017, the company decided on the need to switch to e-document workflow and chose the M.E.Doc service for this purpose. However, the transition to this service failed to bring the desired results for a number of reasons:
    Service fees for partners;

    The need for integration or absence of M.E.Doc;

    Less trust in the service after a virus attack (the PetyA virus, June 2017)
Then the company searched for an alternative, based on the main objectives:
1

Convenience for the client:

No additional cost; easy transition; high level of security; no additional integrations.

2

Security for the client:

high level of security; integration with existing processes and ERP.
The group of companies opted for the Vchasno service; Post Finance was the first company in the chain of transition to ODE from Vchasno. In the process of migration to Vchasno a special Vbox solution was implemented for Nova Poshta, which allows to sign 10 000 documents within 30 minutes and XML-documents of 100 000 lines within 3 minutes.

The first real results were obtained after six months already. About UAH 100,000 of expenses were saved as a result of going paperless. There was also an acceleration of period closing in the accounting system - clients receive statements of performed works every 2nd day of the next month. Signing of documents is now 36 times faster. And the key side of the partner was the ability to sign a large number of documents directly from the partner's ERP.
A special Vbox solution allows us to sign
10,000 documents in 30 minutes
XML documents of 100,000 lines in 3 minutes
Request a demo of the Vchasno service
During the online meeting, you will learn how e-document workflow can simplify and speed up the exchange of documents in your company.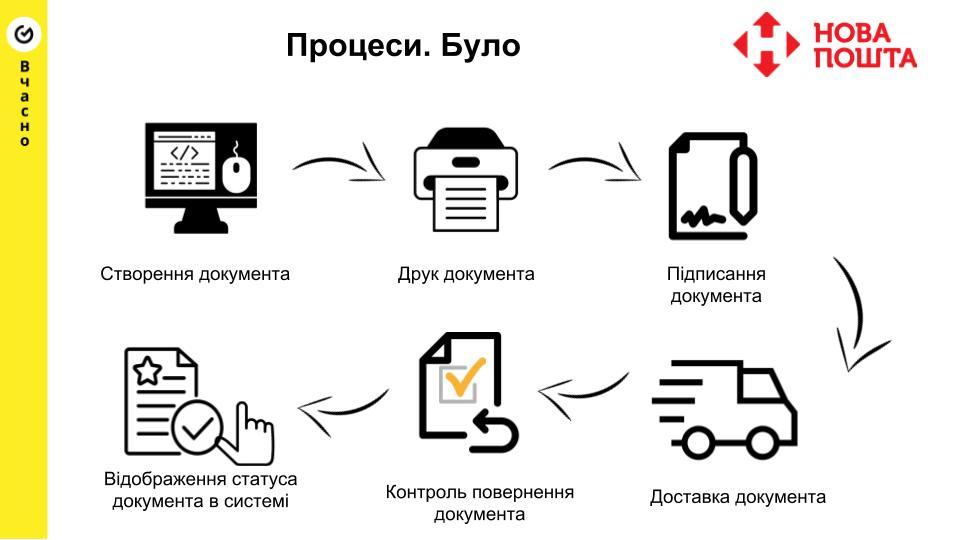 .