Hanna Horban
Head of Accounting and Business Process Automation Sector of Agroprosperis LLC told about the transition to e-document flow, the reasons and consequences of paper rejection.
Results of ODE implementation
the last fourth stage of the transition to ODE has started
100% ODE with logistics companies, brokers and Vinnytsia OZhK
started to issue QES to all employees
Reasons for switching to e-documents
In 2008, we faced the need to standardize and centralize all accounting and business processes. So we started looking for solutions. Since 2010, we have already switched to a unified accounting system. In 2014 we developed our own product AP Agronomist – an IT tool that greatly simplifies and standardizes the tasks of an agronomist and allows you to transmit from the field all of your observations, all of the movement of inventories, all things that you apply to the soil, etc.
At the end of 2015, we went further and created a branch where we gathered all of our accountants and developed a kind of "a mirror" for transactions between Group companies. This helped the accounting department to generate documents simultaneously.
In other words, the seller within our group clicked on the button "Make the sale document", while the buyer at the same time created a document in 1C for the purchase. However, the desired result of accelerating the processes was not achieved.
Because with documents already generated in the system, accountants still had to wait for financial managers at companies all over Ukraine to print, sign from the manager, stamp, scan and send the signed document. Then we realized that we needed an e-document workflow.
Request a demo of the Vchasno service
During the online meeting, you will learn how e-document workflow can simplify and speed up the exchange of documents in your company.
Choosing a provider
At the beginning of the marketing season, the CFO of our elevator business approached me with a question regarding e-document workflow. During the conversation, she told me that she had met a girl who works for Vchasno while sailing across the Bosporus and suggested that we should look into the ODE service. Since information security is our priority, we arranged a meeting of our IT director with representatives of Vchasno at first. And he confirmed that this is exactly the service we can work with, since everything is simple, secure, there is a free trial period and integration with 1C.
About the transition to external ODE
So, in 2019, we started moving our grain elevators to e-document exchange. A year later, we realized that we had to move on. We created a working group and continued the transition to e-document workflow. In the summer of 2020, two pilot plants switched to external ODE within the group. At the same time, we adjusted integration and switched to the Professional package and 100% exchange of e-documents with logistics companies, brokers and the Vinnitsa OZhK. Since October 2020, we are gradually organizing ODE with our partners.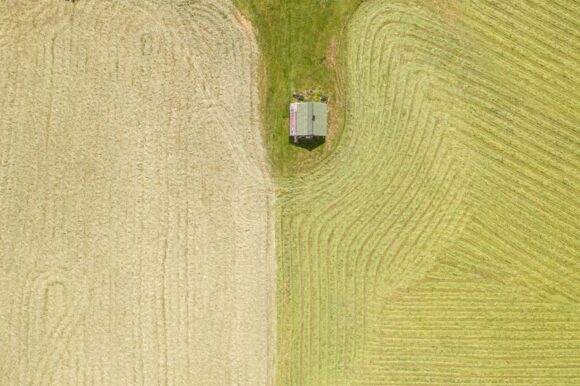 About the transition to internal ODE
Since our main goal was the conversion of internal document workflow to e-format, it became necessary to issue digital keys to employees all over Ukraine. We considered various options and realized that we needed a Diia representative office on the basis of Agroprosperis LLC. That's why we created it and started issuing QESs to all our employees, as we have more than 3,500 people.
We issued our first QES in December 2020 to our tractor driver. And in the same month, we started developing our own repository of QESs, the so-called "ridge".
We first selected pilot companies to test all of our EDO needs on. We issued QESs to two pilot companies. And already in January 2021, the first electronic internal document was signed in our 1C. And after the successful pilot, we divided the remaining companies into so-called waves for gradual transition to ODE. In December 2021, we started the last fourth stage.
About the challenges
Certainly, there were some difficulties. The technical ones were solved because Vchasno service agreed to help us, and our IT department worked very fruitfully together with the working group.
However, two other problems remain.
The first concerns employees who constantly forget their passwords. This problem can be solved by Face ID or fingerprint identification.
And the second is the reluctance of partners to switch to ODE or use other document management systems. So, the ability to migrate documents between different ODE platforms is very lacking.